Lesbian Kamasutra : Position 22
Lesbian Kamasutra
Hello Sisters,
I hope you guys are doing well and that you enjoyed your summer holidays.
Grey clouds are piling up in the sky, the days are getting shorter, shirt-sleeves are lengthening, and Fall is already looming.
Goodbye beaches, sunscreen, girls in miniskirts, bare bodies, smiling faces and drinks with friends. Hello work, stress and hot coffee.
I don't know about you guys, but in these early days of Fall, when I look in the mirror, I find myself pouting a little. It's not a pretty sight; I tell myself it's time to shape up, because even though drinks, large meals with friends and all that jazz are good for morale, they're not good for my body!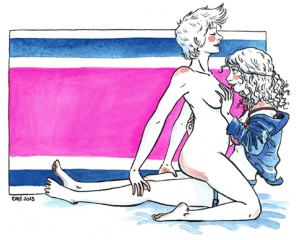 I am very lazy. I tend to postpone all my appointments with my personal trainer: "Yes, hello? Today? At 2 pm? That's early morning for me! How about tomorrow? You can come by for drinks tonight, though!" (She's very hot, my personal trainer). I did, however, find the perfect way to exercise while enjoying myself: working out during sex.
This Fall, we suggest a position from the Kama Sutra, drawn by 'Oré' and adapted for lesbian sex that will allow you to tone your abs and thighs.
Position 22: the Sporty lesbian sex toy
Sam just got home from work, she's rather tired but she doesn't mind helping you keep your resolutions, especially in that way. Here's a position where she's got virtually nothing to do.
Ask her to put on the strap-on, to slip the Sporty sex toy into it and then to sit on the couch. Once seated, she places her feet on the coffee table. Then all you have to do is sit on her… I won't describe the foreplay; otherwise the newsletter will turn into a four-volume novel!
The Sporty lesbian sex toy is inside you, its slightly curved shape pressing just right onto the little coin-sized spot inside you (some call it the G-spot).
Your legs are on each side of Sam's body. You're now sitting on top of her, she's got direct access to your breasts and the other juicy, hot parts of you… as you make small back-and-forth or half-circle movements.
This position is rather pleasant because the pain caused by all this worthy physical exercise is overshadowed by the intense pleasure. Now contract your abs as much as possible when moving back and forth, and try to not use your arms for support. Feel the burn!
And one-two, one-two, stop… take a short break, and resume the movement. The purpose is to reach orgasm in as many moves as you can manage. Your legs, abs and buttock muscles are starting to ache…and there you have it: the first muscle-toning exercise is done with, on this beautiful day.
To sum up:
-Sam sits on the couch wearing the harness with the Sporty sex toy
-Sam's legs are braced on the coffee table
-You straddle her
-You make back-and-forth or small half-circle movements
Well then, dear Sisters, I wish you all a good and sporty beginning of Fall!
We'll be back next month with another position.
Lots of love,
Maryssa Rachel