Lesbian Kama Sutra : Position n°16

Lesbian Kama Sutra : Position n°16
Dear Sisters,
In the Fall, I imagine that we all do the same thing, at least those of us without central heating do: postpone turning on the heating for as long as you can. To keep warm and help with a few daily aches, there is nothing better than a few little sexual games.
Last month, we presented the "sporty sex toy" and muscle building. In November, I decided to start "praying".
So here's the scenario: You've had enough of being wrapped up in your woolly blanket with Sam (whose nose keeps running).  At this point you're thinking your evenings are missing a certain je ne sais quoi, non?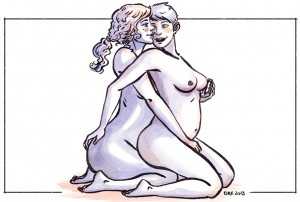 You jump on your computer (or your tablet), looking for something to warm you up. After a little searching, bingo! There it is…
Forty-eight hours later your toy arrives in its discreet package.  Your lipstick strap-on harness with Kiss or Lick Me, which is on sale this month! Yay! What's more, it's Saturday. Tomorrow is the day of the Lord, and you're not working! Hallelujah!
Sam has gone to visit her grandma, a little jar of jam and some pancakes wrapped up in her basket as a gift.
You prepare a nice meal, and you light scented candles. After all, it's all about creating an atmosphere; a little background music, scents to bewitch the senses, and placed in easy reach, your little WET FOR HER box of surprises, ready for use.
You run into the bathroom, swapping your old sweatpants for pretty lingerie (or the  jeans and tank top she loves). Put on a bit of perfume and try and be patient…
Sam arrives home, pleasantly surprised by what she finds. You put your arms around her, tell her that you love her, show it with sweet kisses …she presses hard against you, murmuring how delicious your lips are, seduced by the Kiss or Lick Me.
Next stop, the unfolded sofa bed. You look at the little box and back to  Sam.
"You! You've been busy shopping, have you?" She smiles.
"Just something small, very small to keep us warm…"
"Let me have a look at that…"
You hand her the bag, she opens it and finds the Toy Two and the two Kiss or Lick Me lipsticks!
"Who cut off ET's fingers?"
"Oh! You are so not funny," you scold her. "Juliette tried them and suggested them! All you have to do is put them on your fingers, it's magical. At least, for me!"
In short, you start your caresses again. She kneels behind you. You lean your head back into her softness, and now she's stroking you, kissing you on the neck, and you feel a tingling. You can't get enough of her hot mouth. She drops her long fingers along your belly, tickles your belly button, and descends a little further. You flop your head back onto her, a little dizzy. It's not so cold anymore. You let yourself go …
Sam takes her time, then slowly puts her two long, magical fingers inside you. If you don't do vaginal penetration, the advantage of this position is that it facilitates masturbation….
Those caresses, those kisses, those sensations…the temperature of the room has skyrocketed. This must be heaven after all …
Phew…I must dash now, all this voyeurism is giving me ideas.
Good luck, girls! Have fun, and above all, don't ever be good.