How to choose your strap on harness

How to choose your strap on harness
You want to make love to your girl and go hands-free? Strap-ons are just what you need. Your first thought might be "Straight sex?!", but then surely the next idea to run through any hot-blooded lesbian's head would be how fabulous it'd be to make love to a girl hands-free, enjoying a woman's body? And what's more, to be able to choose the size of the dildo, with no erectile-disorder, guaranteed!
You'll find tons of cheap harness strap-ons made in China and crafted by men, but do they work? The answer is no, or in any case, not like you want. When you buy a cheap product it simply cannot compare to one from our high-quality range.
Make the right choices from the beginning: start with a harness created by lesbians, for lesbians, such as those made by the manufacturers RodeoH and SpareParts , created for lesbians couples and tested by lesbians. Every year SpareParts improves and develops their range, aiming for a perfect product.  With a one-year guarantee, they are of course more expensive than their Made in China cheap counterparts, but you won't be disappointed.
Here are the different terms used and products for strap-on harnesses:
O-ring: this is where the sex toy goes and is what supports it.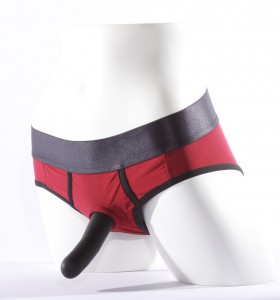 Brief strap-ons or panty strap-ons: the new generation of harnesses. Cool, stylish and ready in 2 seconds. You can wear it during the day or the night. Washable. But you're not as naked as with a jock-style harness. If you and your girl are different sizes you also won't be able to swap roles easily.
The first and most important piece of advice for a strap-on is regarding the elastic belt (brief strap-ons) and the leg straps (for the jock style). These are the parts of the harness that support the weight of your sex toys. If they aren't firm enough, the dildo falls and doesn't stay close to your body, resulting in less control over its movements.
The second most important thing is sizing. As the belt and leg straps support the weight of the sex toy, the harness must fit you correctly.  Too loose, and the sex toy bends and you'll have a hard time controlling it. Usually Jock strap-on harnesses are easy to choose: one or two sizes. For the brief harness, you have to measure your hips to find the correct size. If you are between two sizes, choose the smaller one.
The third most important thing: will the harness be compatible with your sex toy? If you take an elastic O-ring, as featured on the RodeoH brief strap-ons or Spareparts strap-ons, any sex toys should fit fine (unless you use very, very big sex toys). Kits or pre-prepared packs are the safest way to be sure that everything is compatible. For other strap-on harnesses with an interchangeable O-ring or D-ring you have to measure the sex toy diameter to put the correct O-ring or D-ring on your harness. Again, if the ring doesn't match the sex toy diameter perfectly, you will lose control over it.
Remember that materials and sizing are the most important criteria when it comes to choosing your strap-on. Any harness that doesn't fit you correctly, due to poor materials or missing buckles, won't work very well.
With all this in mind, the most important thing is to have fun in bed and make love!