Strap-ons harnesses versus Double ended dildo

In the great search for the perfect pleasure toy, many couples consider using a strap-on toy because of its versatility.  Yet, some women hesitate when looking for a strapless sex toy  also called double ended dildo to share with their girlfriends or wives, in part because it's difficult to wade through all of the different sizes, shapes, colors, and styles on the market. And sadly, many more have had the disappointment of purchasing what they hoped would work for them, only to find out that it was ill-fitting, or the wrong size or shape, or it simply just didn't hold up well.
Strap-on and strapless dildos are a bit different in their preparation for use. With a strap-on dildo you can be ready in a second and give pleasure ot your partner without the need for the giver to be exited. The strapless dildo requires the wearer to be turned on to enter the bulb in her. The receiver will need to excite her partner so her vagina moistens and opens to insert the bulb in the wearer. The more exited the wearer is, the easier the bulb will enter.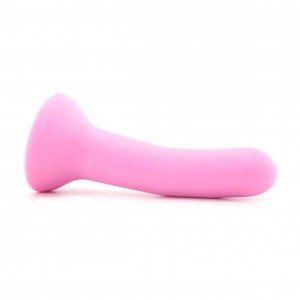 Strap-On dildos, worn with a harness, have been on the market for decades. Originally, these products weren't very femme-friendly – with aggressive shapes and uncomfortable harnesses, many people decided it wasn't the kind of toy which suited their lovemaking. Thankfully, over the years, options have become much more attractive, with more feminine shapes and colors, a wide range of sizes, and bases which are curved to fit against the wearer's body – some even add clitoral stimulation, like Wet For Her's line of dildos.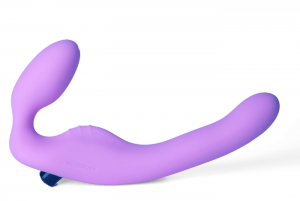 There is also the "Strapless Strap-On" or « Double-ended dildo« , which connects lovers without having a harness – or anything else – between them. These are evolved, body-conscious, double-ended dildos which are "worn" internally by the giver, without a harness, allowing them to guide and control the movement with their hips rather than with their hands.
Which one is right for you? Here are some tips to help you decide:
– Does the wearer want additional direct stimulation (or even penetration) during play? Some people love focusing on their lover, rather than on their own body; other couples enjoy sex that gives mutual satisfaction. Someone who prefers to focus on their partner may find that a strap-on harness with a dildo is a perfect fit; someone who wants to explore mutual penetration might choose to try a double-ended, strapless toy.
– Do your bodies fit together easily, or is there a body size difference? Some people find that a strap-on worn in a harness can be easily adjusted higher or lower (depending on the adjustability of the harness), to create the perfect angle (and keep the toy stable in a wider range of positions).
– Do you want more skin-to-skin contact with your lover? If so, a strapless strap-on gives you the ability to feel your partner's body, without fabric or straps coming between the two of you.
Once you know which you want to try – a strap-on with a harness, or a strapless dildo – here are some tips to help you get started!
– If you're choosing a toy that will be worn with a harness, you will want to decide if you'd like one with a contoured base, or with a flat base. A contoured base, such as our Fusion sex toy, will give additional clitoral stimulation to the wearer, while one with a flat base (like our bestselling Sex Toy Five) will sit against the body comfortably and not intrusively.
– Choose your harness wisely! If a harness fits too tight, it will take your mind away from your lovemaking – and that's not the goal. If it fits too loosely, it won't follow the wearer's movements, and therefore less spontaneous and intuitive. Harnesses made by companies like SpareParts HardWear  and RodeOH are designed by women, and offer a wide range of styles, sizes, and colors, so you can select your perfect fit – and your perfect look.
– A strapless toy, especially one with an optional vibrator, gives a double dose of pleasure. Make sure you consider the receiver's preferred size – our Union, for instance, comes in three sizes. Don't forget to excite your partner so she can insert easely the bulb and use plenty of lube on both ends of the toy to help it ease perfectly into place.
– Never worn a harness nor a dual-ended toy before? Build up your confidence a little bit, by wearing it once or twice before you introduce it to your lover. When you first put the harness on, take a few minutes to adjust it – if you're wearing a one-piece harness, you may find moving it up or down an inch or two on the body gives you more stability and control. If it's our Union dual-ended strapless toy you're using, you can bend the toy so it curves against your body and fits you comfortably.
– Just because you're wearing the toy, doesn't mean that you have to do all the thrusting! Especially while getting used to wearing it, having the receiving partner rock, ride, or rotate against it can make for a really sexy experience, and give you a chance to find out what positions work best for you both while you're still getting a feel for it. Take turns doing the thrusting!
Above all – have fun! Both strap-on and strapless dildo can bring you and your lover closer together – in more ways than just one.