Union : the new Double ended lesbian sex toys

This is the sex toy bestseller for lesbian couples. The double ended dildo is unique because it truly becomes part of you, feeling like an extension of your body. Providing simultaneous pleasure for lesbian couples, there's no harness to slip into.  It's skin-to-skin, total intimacy, with nothing in between you and your partner.
How does it work? The small side, called the bulb, is inserted into the vagina. Thanks to the pelvic muscles it stays in the wearer`s body. Then you're ready to penetrate your partner, hands- and strap-on free.
We added an internal copper wire with form memory in the middle of the silicone. This enables you to choose the sex toy`s angle to enjoy more diverse positions, while having better support (it won't droop) while maintaining a soft and supple texture.
Most of the double ended dildos on the market droop, or the support is unsatisfactory due to the weight of the silicone. When this happens unlucky wearers have to use their hands to put it correctly back in place. Yes, it can be awkward.  With the Union double ended sex toy, the interior copper wire provides better support to the sex toy and even if it slips out while you're in the thick of the action, you won't have to use your hands to steer it back on course.

The Union double ended sex toy comes with a 5-speed bullet vibrator, rechargeable via USB port.
Like the Fusion sex toys, we made an ergonomic stimulator placed right over the bullet, thus increasing the wearer's sensations to her clitoris.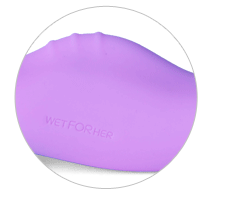 The Union double sex toy is available in 3 colors (black, purple and pink) and all in three size (small, medium and large).